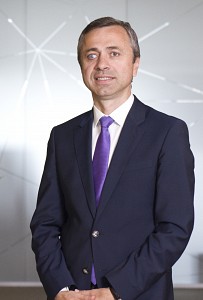 President Ionuț Simion Country Managing Partner, PwC Romania
Ionuţ Simion is Country Managing Partner of PwC Romania, where he leads a team of over 650 professionals, including 19 Partners, across three lines of services – Assurance, Tax and Legal Consulting, Management Consulting and Deals. He is also a member of the Management Board of PwC in South-Eastern Europe.
Ionuţ is one of the best known tax advisors in Romania and for six years he was the leader of the Taxation committee of AmCham. Currently, he is a vice-president of the Romanian Chamber of Tax Consultants.
Ionuţ served as President of AmCham between 2016 and 2017. In this role, he was involved in discussions and negotiation with Romanian authorities on several legislative initiatives having an impact on the Romanian business environment. In 2016 Ionuţ supervised the publication of a complex AmCham report on public policy recommendations - Priorities for Romania – which comprises specific actions to encourage the development of several key sectors in Romania.