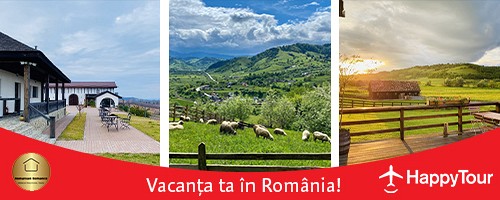 Romania … a timeless place, full of authenticity! A place that has it all: sea, mountains, hills and a magnificent delta. No wonder this country is often called the land of choice. Because you do really have a lot to choose from: medieval towns and castles, monasteries, historical places and natural attractions, stunning sceneries and wild nature.
It is a varied country where the real experience of travel will challenge & amaze you. Not to mention the Romanian culture and delicious traditional cuisine. Where to go and experience all these?
Well, each region in Romania is unique and if you choose a suitable accommodation, the travel experience will be totally unforgettable. A concept of premium traditional tourism is growing in popularity and there are more and more full of charm housings that offer authenticity, stories and high quality services.
Enjoy privacy, comfort, picturesque surroundings, unique experiences and choose to discover Romania in all its splendour.
Contact us at:
BUCHAREST
Polona Business Center, Strada Polona 68-72, Receptia 2, Etaj 4, Sector 1, Bucuresti
Tel: (+40) 21 307 06 00 Fax: (+40) 21 307 06 40 /Email: office@happytour.ro / Website: www.happytour.ro
Reservations at : vacante@happytour.ro Monday - Friday : 09:00 - 18:00
Constanta - ROMANIA
Bd. Tomis, nr.67, cod postal 900725, Constanta, jud. Constanta
Tel: (+40) 024 166 1044 Fax: (+40) 024-1661032
Email: constanta@happytour.ro
Program
Luni-Vineri: 09:00 - 18:00
Ploiesti - ROMANIA
Bd. Republicii, Nr.122, Bl.16B2, cod postal 100385, Ploiesti, jud. Prahova
Tel: (+40) 0244 536 374 Fax: (+40) 0244 517 985
Email: ploiesti@happytour.ro
Program
Luni-Vineri: 09:00 - 18:00